11 Top-Rated Beaches in Australia
Writen by: superadmin | 14 December 2020 | 5 Minute Read
Rimmed by more than 60,000 kilometers of sun-soaked coastline, Australia is famous for its spectacular beaches. Many of these gleaming beauties grace lists of the best beaches in the world, and with more than 10,000 beaches in Australia to choose from, you're sure to find the perfect stretch of coast for your favorite activity, whether it's surfing, snorkeling, swimming, or sunbathing.
Nature lovers find nirvana on pristine stretches of sand and sea tucked deep in the wilderness. Surfers seek out glistening green-barrel breaks, and city slickers love a beautiful beach with easy access to restaurants, shops, and attractions. From coral-fringed bays in Western Australia and blonde-bombshell beaches in New South Wales and Queensland to a curvaceous cove in Tasmania, and even a tropical island fantasy in the remote Cocos (Keeling) Islands, Australia has an alluring stretch of sand and sea to dazzle even the most jaded beach lovers.
1 Whitehaven Beach, Queensland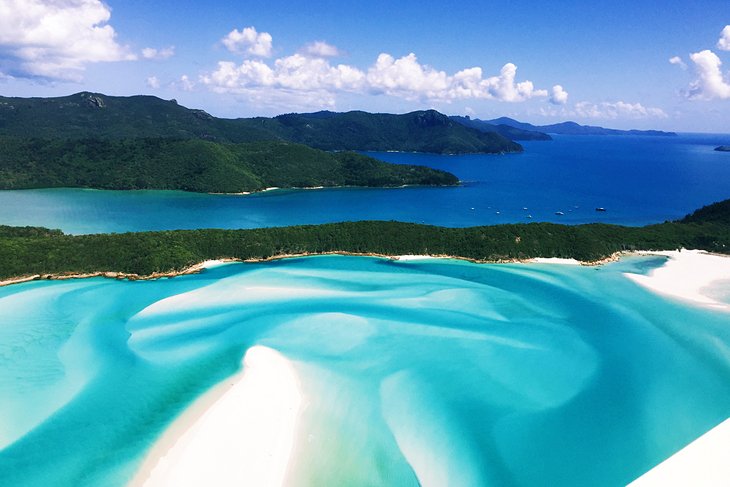 Whitehaven Beach, QueenslandShare:
Whitehaven Beach in the Whitsunday Islands along the Great Barrier Reef is not just one of Australia's top stretches of coast, it often scores a place on lists of the best beaches in the world. The seven-kilometer arc of powdery white sand here is actually silica, a silky-soft substance that creates a striking contrast with the tropical turquoise sea and emerald headlands. Best of all, the beach lies in a national park on Whitsunday Island, ensuring that it remains protected and pristine, despite the many day-trippers who land on these shores.
Tongue Bay is a popular anchorage for bareboats, and from Tongue Point, you can take a 10- to 15-minute hike up to the lookout for breathtaking views over Hill Inlet, where striking hues of turquoise and blue mingle with the snow-white sands, creating a marbled mosaic as the tides shift. Camping is permitted on the southern end of the beach.
If you're short on time, hop aboard a seaplane and soar over the swirling seascape on a plane. Most tourists visit the beach on day trips from Airlie Beach, Shute Harbour, or one of the Whitsunday Island resorts.
Hamilton Island makes a great base for exploring Whitehaven Beach and the Great Barrier Reef. The island offers a wide range of accommodation, from luxury resorts like Beach Club and Qualia to the mid-range Whitsunday Apartments.
2 Turquoise Bay, Western Australia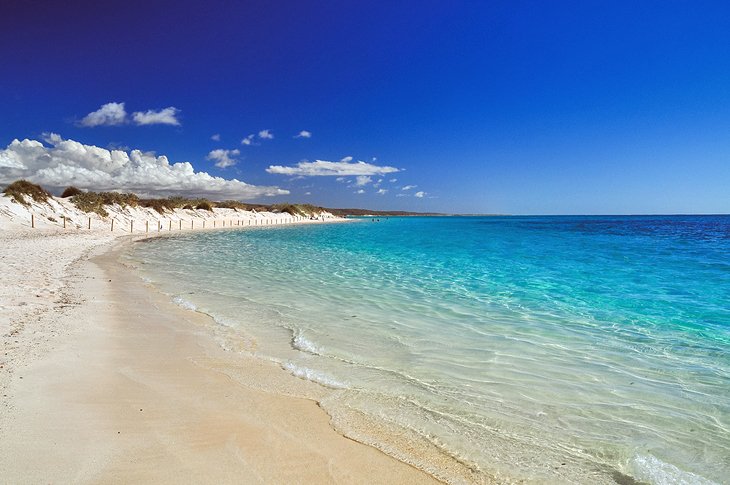 Turquoise Bay, Western AustraliaShare:
One of the most ravishing beaches in Western Australia, pristine Turquoise Bay, about 60 kilometers south of Exmouth in Cape Range National Park, is true to its name, with luminous blue-green water. It's also one of the few mainland beaches where you can snorkel on colorful coral reefs right from shore. World Heritage-listed Ningaloo Reef, Australia's largest fringing reef, lies steps from the sand, with more than 250 species of coral and 500 different species of fish, including stingrays, sea turtles, and whale sharks. One of the popular things to do here is drift snorkeling. You can swim out to the reef at the southern end of the beach and ride the current north to a shallow sandbar. The vivid turquoise waters and soft, white sand also make this a beautiful spot to bask on the shore and soak up all the views. It's a good idea to bring shade protection, snacks, and drinks, as there are no facilities except restrooms.
3 Cossies Beach, Cocos (Keeling) Islands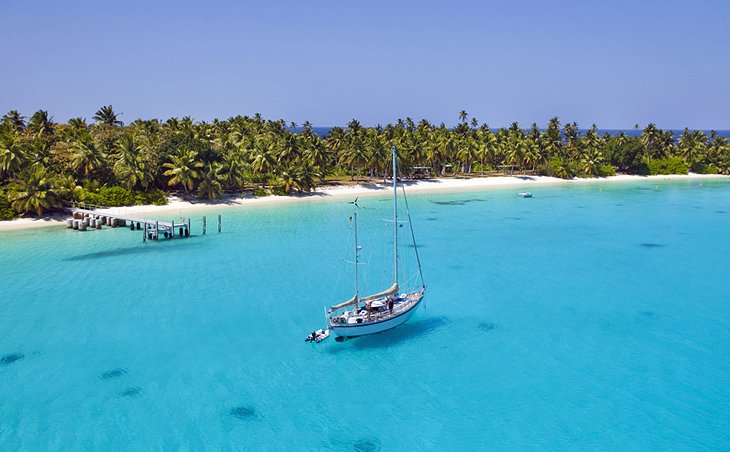 Cossies Beach, Cocos (Keeling) IslandsShare:
Imagine an idyllic South Pacific Islands beach: coconut palms bristling above a bone-white sliver of sand and luminous aqua water lapping softly on shore. This is the delicious stretch of sand on Direction Island in the Cocos (Keeling) islands. This remote Australian Territory of two atolls and 27 coral islands lies about a 4.5-hour flight from Perth. In 2016, with permission from the locals, beach expert and author Brad Farmer christened this sublime slice of coast "Cossies," after Australia's 26th Governor-General, Sir Peter Cosgrove.
Bordered by lush coconut palms, the ravishing beach curves seductively out into the tropical turquoise sea, and you can snorkel among coral gardens and diverse marine life in the crystal-clear waters. Eco toilets, wood-fired barbecues, and walking trails are the only signs of development. The beach is a popular anchorage for visiting boaters, and camping is allowed on the beach, but you need to bring all your own equipment and drinking water. Yes, it's difficult to access this remote cluster of islands, but that only adds to its unspoiled beauty and allure.